I help solve hard computer problems for many groups on campus. Mostly in the School of Pharmacy but also for a cool oceanography lab at SIO. I mostly write custom software, manage Linux clusters, build exotic servers, and help people with particularly tricky computer and networking problems.
Contact
The best way to contact me is through email. I'm generally available to meet in person most days in the morning if you schedule in advance. Tuesday mornings I am reliably at our lab meeting and Monday mornings I always come over to the pharmacy building (SSPPS). If something is not working that should be, definitely email and text me. Note that the voice mail on my office phone is not under my control and ACT, apparently, can not correct that. (Update in 2018- after 8 years, I may finally have control over this; no one has ever left a message though).
| | |
| --- | --- |
| UCSD email | |
| Ablab email | |
| Personal Website | |
| Office | 304E San Diego Supercomputer Center East Building |
| Mail Code | 0747 |
| Office Phone | 858 82 27579 |
| Other Phone | 619 567 3295 (text or leave a message) |
Helpful Help
ITService (formerly known as ACT Help)

SDSC Operations
Interesting Links
Here are some links to things that I have mentioned in presentations or otherwise find interesting and useful:
Research Areas by Size and Countedness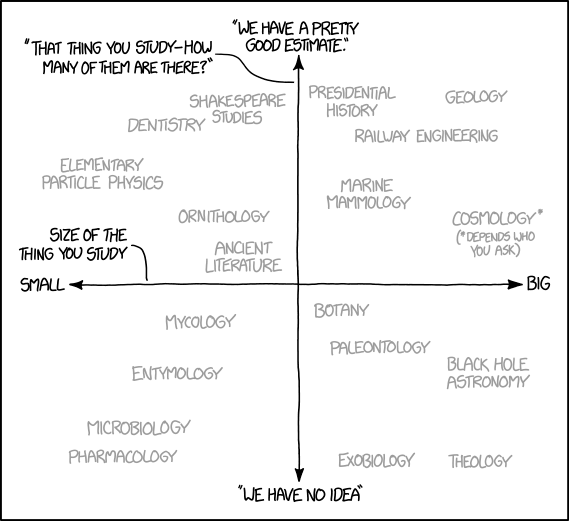 Incredibly, this is not from FAERS!
Help
This is a collection of some of my personal technical notes and notes designed to help others.
PGP/GPG Key
If I say something serious, I probably will cryptographically sign it which you can verify with my public key. If you suspect bad guys are lurking and you want to send me a message that only I can read you'll also need my public key.
-----BEGIN PGP PUBLIC KEY BLOCK-----
Version: GnuPG v2.0.19 (GNU/Linux)

mQENBFBH8ZYBCADKrTJ7/8pQrP5z1QrBhmk6ElkuaR0s1kYZP26/kFt2vMEhWHhB
CozKmcGGXRbp0hNvdMzzOYGVqTNvIAdothuQRLnRShrhGWrP0wco62l7rRSrfAqw
FCS+Dr2vdxR9uWjzYeXc9GirVMplNWrS4KBuDAyNk0C/vthj7ATdwL7/6JSvOnUh
y3TDYEwFpLjGc5g8pVrDzhz2q4UUJ4uM28W09GJYUH3WtIZvxZQo1853V+i6i4OC
k8/cjIwSplesBoSdNZF7yjcnGvt+9eh0YCdhC2Z9BLXs3QFB5wkX/3jtzoPmGHff
VIzUWC7t2qLOrYWJ+VY0oHOxg4MjE1YkTb4fABEBAAG0VEFibGFiIEFkbWluaXN0
cmF0b3IgKFN5c3RlbSBBZG1pbmlzdHJhdG9yIGZvciBhYmxhYi51Y3NkLmVkdSkg
PGFkbWluLWFibGFiQHVjc2QuZWR1PokBPwQTAQIAKQUCUEfxlgIbAwUJBF34AAcL
CQgHAwIBBhUIAgkKCwQWAgMBAh4BAheAAAoJENiHBegHmRbN880H/1oOIbtew3vU
aWhOTKkVicSMqFKtFAEmVP87Q6immI4wzLOvmtsNEkxWvT7gqJrqGwbGU55NoHYx
LImoRWOyHJGHH5L/3EUeijbSLIjuAYuwc30sW7gBaC4LwjTSi+otIApMIZAAAMV/
ns7/XinCJwDQ2/n/K6kTzWvC0MKPl0hoER2e3JdiF2b003lGhV8zEV+djpjBcFht
Ra4CpIE742ETGiZmsqrokuyvRy7Pcig6FBOKm/1JyrA2g2kqRwZyQuqzyFJScpr2
5z67z7gb8ychIrtnW6pGmyIz2iOrEsQjlCVZzYz9MQLon27tX+iK6abfHwGOlI5T
TTZXpzdyDPC5AQ0EUEfxlgEIAOFtAL/CcT4L91Y99e5ovh9dHvf1ssXYLTq7477L
UW5E1uXjz9o/IZ3ootFxQ1N6FHOanhohJtUacps6WSTUDLH8sIwATsc1vu1AeRPF
K+P6uJ8bN1a7jHgd6V2256+7LAgISFaFYa+PG96U42lSI29ZEtv6ZjPXNcr9eAtO
OsKIOhwDoXdk7oQTYgxYccqlfmhzXnuGjANydJ1vvclwzQ+CZw3p2ISv+Zu8PvhS
yRTBilaFfKHyoJAmVmYt9kjTENVWs9xPBVaPOy4GnUoeDvBRXhSRElW3hW+J7t3/
+iV2c2KafVEu2lLCgEu6vFDd59y9ShsE0x2EQhZwSBeEWvEAEQEAAYkBJQQYAQIA
DwUCUEfxlgIbDAUJBF34AAAKCRDYhwXoB5kWzXjoB/9g1Qi6Oppb5Ao0P3WBEJMG
OFzyAo7CY5JaC2QfsmcD6BnG1DqSj3P7A5DYa5wrLU2TVS3OgFHbNmFuPMscmq+n
xb9MD1/o+nJeJlTdnA/V2VLKSoZwJIIlX6dOBvtOx1S6EjaXiF6gRAkM7chWE1vT
TTZPc4qOrrHz8mNrTuFAToROfUVStz9DZePS71pu6MicYRSLLuPmYAWzgVTKVa6X
bJezMnFv4Pn8V9v4kfMXxLJ26q73BHUFveQumx/Vmhv7pZEzTW63mME6zmTEM1dG
D/uCjML/3mhyn7cEFdaDdapV7G1q/mAu0UcxfseywJEGIxFbtOunbkkWDlEgSC5G
=LnAA
-----END PGP PUBLIC KEY BLOCK-----
Docking Fun
Here is a docking test I did to see if I could dock bisphenol-A to hERa-LBD (Y537S) as seen in PDB 3uu7. Yes, and I was able to correctly select it out of 10 other chemicals chosen randomly from Zinc.